Picking the best Bluetooth speaker is no easy feat. We can understand how your friends raving about their favorites can also make it seem harder.
That is why we are here at Speakers Daily to help you explore all the Bluetooth speakers that you must invest in!
JBL Charge Speakers
Here's why we like JBL. The brand is not only well-known for its brightly colored Bluetooth speakers and ultra-compact designs, but perhaps more for its bass-heavy feature. That makes it a fan favorite for both party speakers and speakers for personal use.
Good Things Come In Small Packages
Their speakers offer rich sound and surprising loudness even in their compact designs.
JBL's speakers are popular because they are tough—and that's how we like them for pool parties, workouts, and the beach! Almost all of them are splash-proof, if not completely waterproof—and are meant to be carried or attached to backpacks and motorcycles.
Here are 3 JBL Bluetooth speakers you need to know before you pick your favorite
The JBL Charge 4
One of our favorites is the JBL Charge 4. This portable Bluetooth speaker has a full-spectrum, strong sound, as well as a built-in power bank. This means you can use it to charge your gadgets, such as your smartphone, using its handy USB charging port.
The device also has a built-in driver and two JBL bass radiators that provide depth to the music.
Another feature we think makes it stand out from the crowd is the rechargeable Li-ion battery. The battery has a capacity of 7500mAh, which means it gives its users up to 20 hours of gameplay.
Want something strong and sturdy? The Charge 4 has a tough build, an IPX7 waterproof rating, and comes in various attractive colors. It can also wirelessly connect more than 100 JBL Connect+ equipped speakers to improve your listening experience.
JBL Charge 5 
Not loud enough for you? 
Step up your game with the JBL Charge 5. 
Turn on the PartyBoost function, which allows you to connect two JBL PartyBoost-compatible speakers in stereo or numerous JBL PartyBoost-compatible speakers for truly amazing sound. If you want us to speak geek, then we also appreciate their optimized long-excursion driver as well as a separate tweeter. And it gets even better. This speaker comes with dual JBL bass radiators. Sweet right?
Party till sunrise with its long-lasting battery that can deliver up to 20 hours of playtime. 
Speakers Reviews and Advice on Speakers Daily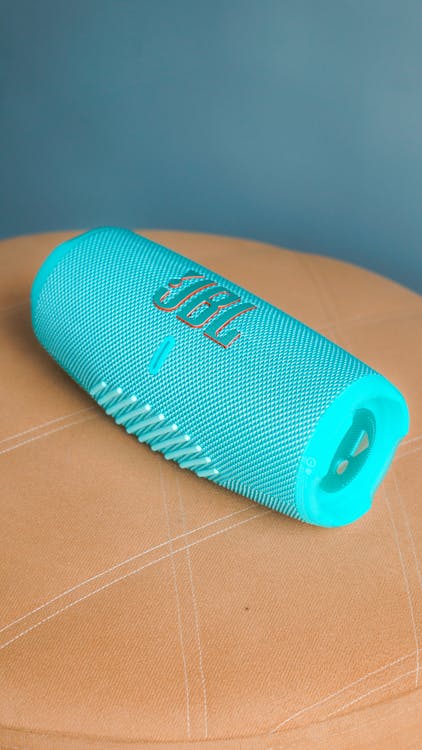 Want to learn more about Bluetooth speakers that you must invest in? Speakers Daily is an Amazon Services LLC Associates Program member specializing in sound-related devices, such as Bluetooth speakers, soundbars, and subwoofers. Head over to learn more about the greatest bookshelf speakers under $500 to Bluetooth speakers with lights in 2022. Reach out for queries and concerns.